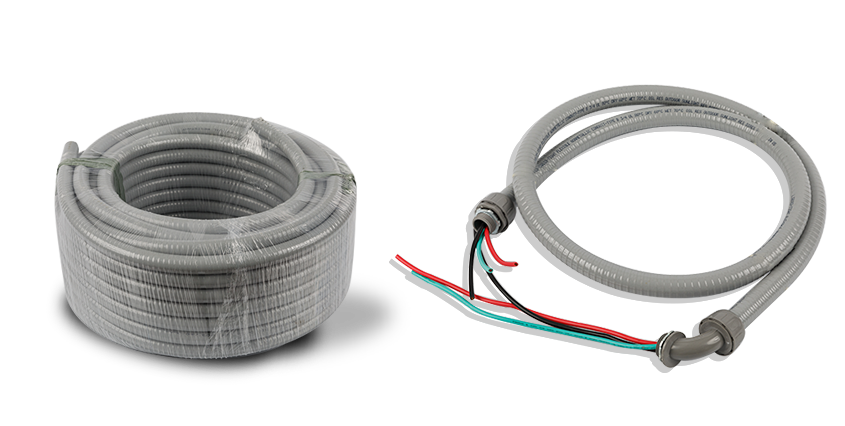 Nonmetallic conduit fittings
are used in electrical installations to connect, secure, and protect nonmetallic conduits, such as PVC (polyvinyl chloride) or HDPE (high-density polyethylene) conduits. These fittings are typically made from various nonmetallic materials that are durable and resistant to moisture and corrosion. Common materials used in nonmetallic conduit fittings include:
Polyvinyl Chloride (PVC): PVC is one of the most common materials for nonmetallic conduit fittings. It is known for its durability, corrosion resistance, and affordability. PVC fittings are available in various sizes and configurations to accommodate different conduit types and installation needs.
Thermoplastic Elastomers (TPE): TPE is a type of rubber-like material used in some nonmetallic conduit fittings. It offers flexibility and resistance to environmental factors like UV radiation and moisture. TPE fittings are often used in outdoor and underground applications.
Polyethylene (PE): Polyethylene fittings are suitable for high-density polyethylene (HDPE) conduits. HDPE is known for its strength and resistance to chemical and environmental factors. PE fittings are commonly used in buried or exposed conduit systems.
Nylon: Nylon conduit fittings are strong, lightweight, and resistant to impact and abrasion. They are often used in applications where protection against physical damage is essential.
Polypropylene (PP): Polypropylene is another thermoplastic material used in nonmetallic conduit fittings. It is resistant to many chemicals and offers good temperature stability. PP fittings are often used in industrial and chemical environments.
ABS (Acrylonitrile Butadiene Styrene): ABS is a thermoplastic material known for its strength and impact resistance. ABS conduit fittings are used in various applications, including plumbing and electrical installations.
Fiberglass-Reinforced Plastic (FRP): FRP conduit fittings are reinforced with fiberglass to provide additional strength and durability. They are used in environments where exceptional corrosion resistance is required.
Polycarbonate: Polycarbonate is a durable and transparent thermoplastic material. It is sometimes used in nonmetallic conduit fittings for applications where visual inspection of wiring is necessary.
It's essential to choose the appropriate nonmetallic conduit fittings based on the specific requirements of your electrical installation. Factors such as conduit material, environmental conditions, and the type of electrical wiring being used will influence the choice of fitting material. Additionally, local building codes and regulations may dictate which materials and fittings are acceptable for use in your region.