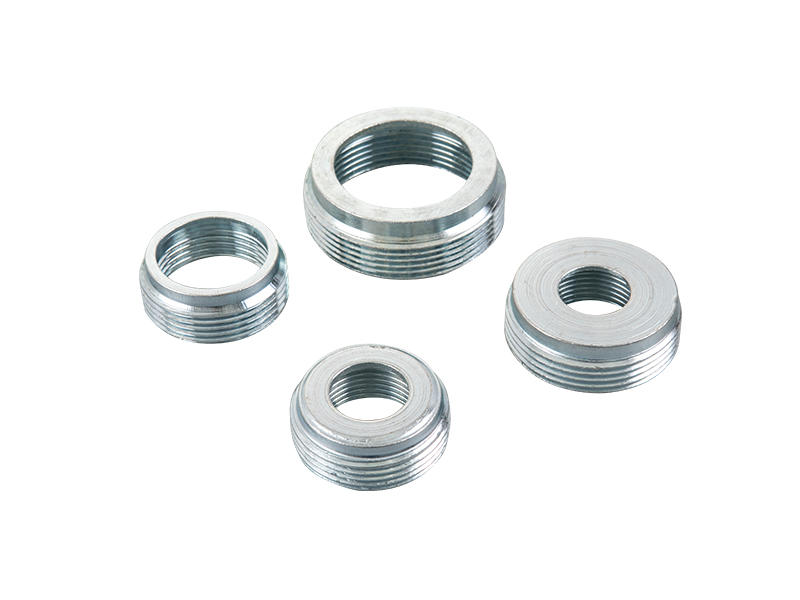 Metallic conduit fittings
are used in electrical wiring systems to secure and protect electrical conduits, which house and protect electrical wires. These fittings are typically made from various types of metals to ensure durability and electrical conductivity. Common materials used in metallic conduit fittings include:
Steel: Steel is one of the most common materials used for metallic conduit fittings. It is sturdy, durable, and resistant to corrosion. Steel conduit fittings are often galvanized to provide extra protection against rust and moisture. They are suitable for both indoor and outdoor applications.
Aluminum: Aluminum conduit fittings are lightweight and corrosion-resistant. They are often used in outdoor or corrosive environments. However, aluminum conduit fittings are not as strong as steel fittings, so they may be more susceptible to physical damage.
Zinc: Zinc is often used as a coating material for steel conduit fittings. Zinc-coated fittings provide an additional layer of protection against corrosion, making them suitable for outdoor and harsh environments. They are commonly referred to as "galvanized" fittings.
Die-Cast Zinc: Die-cast zinc conduit fittings are made from molten zinc poured into molds. They are lightweight and offer good corrosion resistance. These fittings are commonly used in electrical installations.
Brass: Brass conduit fittings are corrosion-resistant and provide good electrical conductivity. They are often used in applications where appearance is a consideration, such as decorative electrical fixtures.
Copper: While less common, copper conduit fittings are available and offer excellent electrical conductivity. Copper fittings are often used in specialized applications where electrical conductivity is critical.
Stainless Steel: Stainless steel conduit fittings are highly resistant to corrosion and are suitable for environments with high humidity or exposure to chemicals. They are also used in applications where hygiene and cleanliness are essential.
The choice of material for conduit fittings depends on factors such as the environment, the type of conduit being used (e.g., rigid metal conduit or flexible conduit), and the specific electrical requirements of the installation. It's important to select the appropriate conduit fittings to ensure the safety and integrity of the electrical wiring system. Local electrical codes and regulations may also dictate the materials that can be used in specific applications.